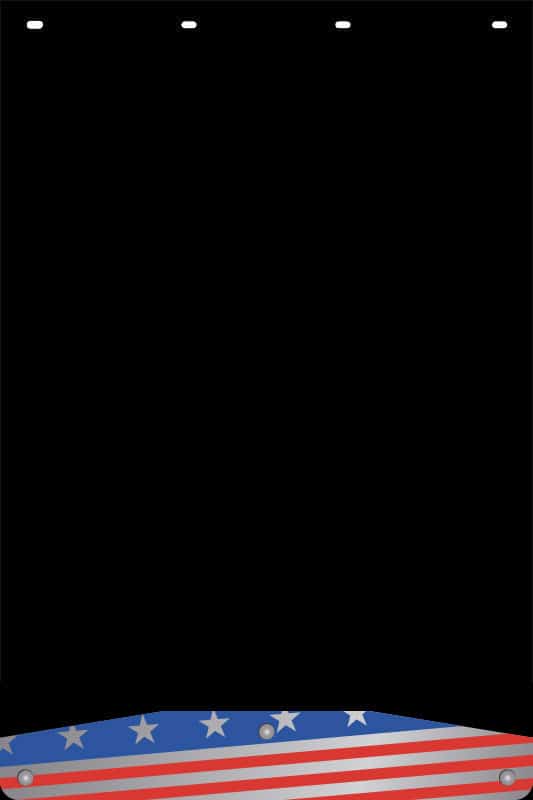 Request Quote
~ Stainless Steel Mud Flap Weights ~
Please Allow 2 to 3 Weeks for Delivery
Stainless Steel Weights prevent the Mud Flap from sailing while in motion. Choose from 7 stock designs or create your own. Made from 18-gauge, Type 304 Stainless Steel with a chrome appearance. Measures 4" (H) x 24" (W). Sold as pairs with the mounting hardware included. Made in the USA.
IMPORTANT! Stock Weights usually ship in 5-10 business days. Custom Weights require an approved artwork proof and up to 21 days for production.
Weights prevent the Mud Flap from sailing while in motion. They are the most popular accessory sold by USA Flap. Things to consider when purchasing Stainless Steel Weights:
STYLE — Available as Plain Weights or with Custom Text.
MATERIAL — Mud Flap Weights are constructed of 18-gauge, Type 304 Stainless Steel. Made in the USA.
FITMENT — Stainless Steel Weights are 4in x 24in (H x W). Available in custom sizes. Mounting hardware is included.
WEIGHT — Stainless Steel Weights add approximately 9lbs (per pair) to keep the Mud Flaps down for better performance.
With production facilities in Indiana, USA Flap manufactures Custom Mud Flaps for the commercial transportation industry. Your business is very important to us. Please email any questions or concerns to Sales@USAFlap.com with your information attached or call (888) USA-FLAP for immediate assistance. Hours of operation are 8:30 AM—4:30 PM ET. Our team of USA-based Customer Service Representatives will help you to set up an account. A business application and resale certificate may be required for business accounts. All orders must be paid by Credit Card or PayPal unless NET 30 Terms have been approved (see Payment Methods). We cannot be held responsible for errors on phone orders. To ensure accuracy, we recommend written purchase orders ("POs") or written confirmation whenever possible.
What Purpose Do Mud Flap Weights Serve?
Mud Flaps function best when they're not flapping wildly in the wind, allowing road debris to blow past and create hazardous conditions for other vehicles. Our Mud Flap Weights add style, rigidity, and personality to your semi-truck or trailer. Universal fit size (4in x 24in), and intended for use on Peterbilt, Freightliner, Mack Truck, Kenworth, International, Volvo, and all manner of commercial vehicle.
Can I Order The Stainless Steel Weights Separately?
Mud Flap Weights are offered as an accessory for customers who order Custom Mud Flaps for their semi-truck or trailer, tow truck, emergency vehicle or bus. If you have purchased our PolyGuard or Poly-Rubber Mudflaps and wish to personalize Stainless Steel Weights, please call (888) USA-FLAP between the hours of 8:30 AM & 4:30 PM (ET).
• Our Location •
"Will Call" is available from 10am to 3pm (Mon-Fri)
Aurora, IN, U.S.A.
USA FLAP
10510 Randall Ave
Aurora, IN 47001
Phone: (888) USA-FLAP
Fax: (812) 926-0192