#1 Source For




Custom Mud Flaps




For Semi Trucks
Established in 1993, USA Flap is a family-owned business with more than 25 years of manufacturing experience and a great team of 100% USA-based employees. Our Mission is to provide quality Custom Mud Flaps for semi-trucks, trailers, emergency vehicles, tow trucks, and all manner of commercial vehicles that exceed expectations. Using an existing logo, sketch or digital image, our in-house graphic artists will design your company's logo onto our Heavy-Duty Mud Flaps — available in RubberGuard (poly-rubber blend) or PolyGuard (plastic). Our proprietary Reflective Mud Flaps are unique in that graphics are heat-sealed onto the flaps, giving the colors a bright and vividly reflective appearance at night. Tow trucks, emergency vehicles and first-responders will appreciate the added visibility and safety this offers them. Our simple Stock Block Letters can be used to permanently Hot Stamp your personal message or company name onto a pair of semi-truck or tractor-trailer Mud Flaps, or you can purchase Blank Mud Flaps directly online.
Competitors may try to convince you of their silk-screen printing method to develop your Mudflaps. Silk-screening is a low-cost solution that produces unreliable prints that don't hold up long-term. USA Flap has perfected the Hot Stamp and Reflective processes for developing permanent designs. We have multiple U.S. patents to prove our expertise. All work is completed in-house, which allows us to serve our customers' needs from A-to-Z in a timely manner. In a rush? No problem. Custom orders are usually processed and shipped within 3 weeks' time.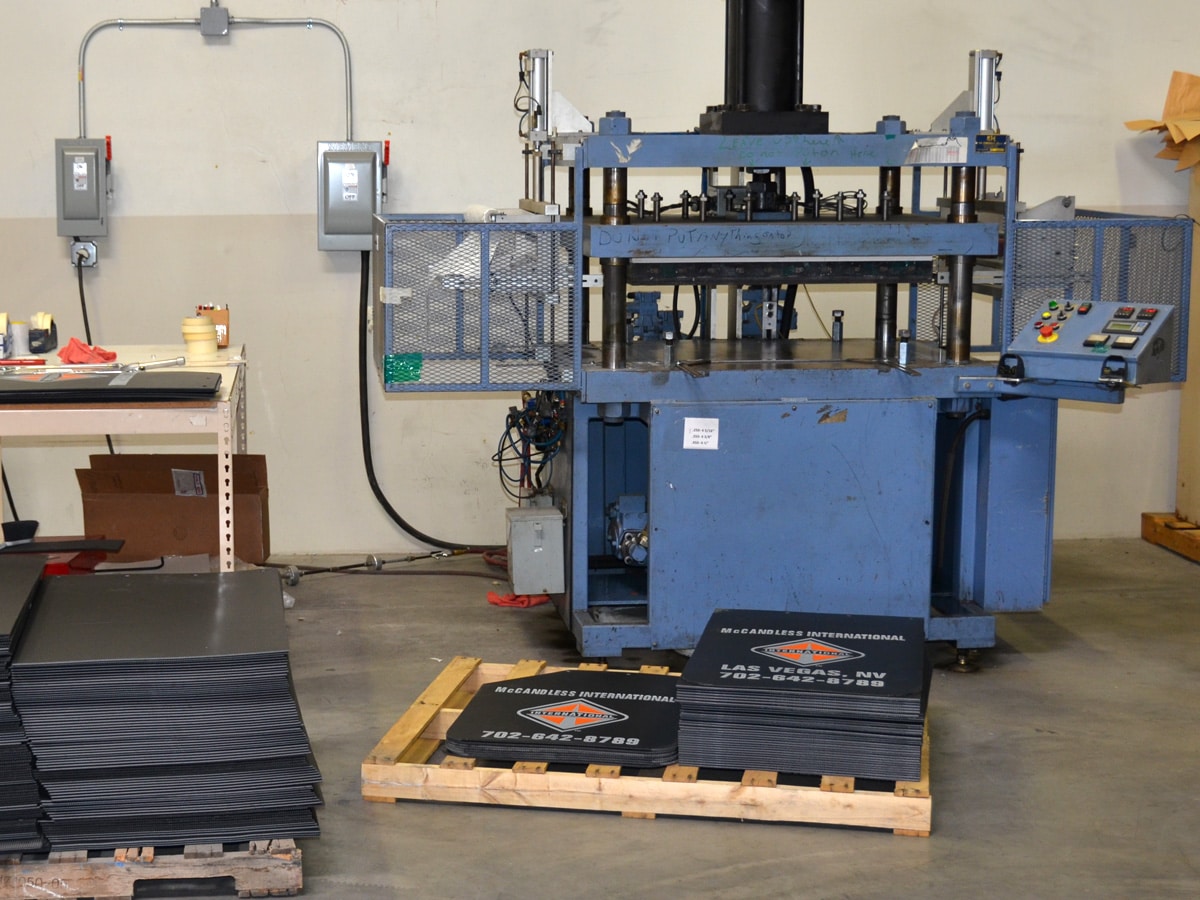 About USA Flap
USA Flap was established in 1993 as a subsidiary of Specialty Adhesive Film. Headquartered in Aurora, IN, with a second manufacturing plant in North Las Vegas to serve our West Coast customers, we offer one of the largest selections of semi-truck Mud Flaps & Accessories in the Industry. We have been awarded multiple U.S. patents for the materials and methods used to make Reflective Mud Flaps for use on tow trucks, emergency vehicles, safety-minded drivers, and advertising interests. We pledge to provide our clients with exceptional service — before and after the sale — and continued commitment to innovation, technology, and low prices.
Read More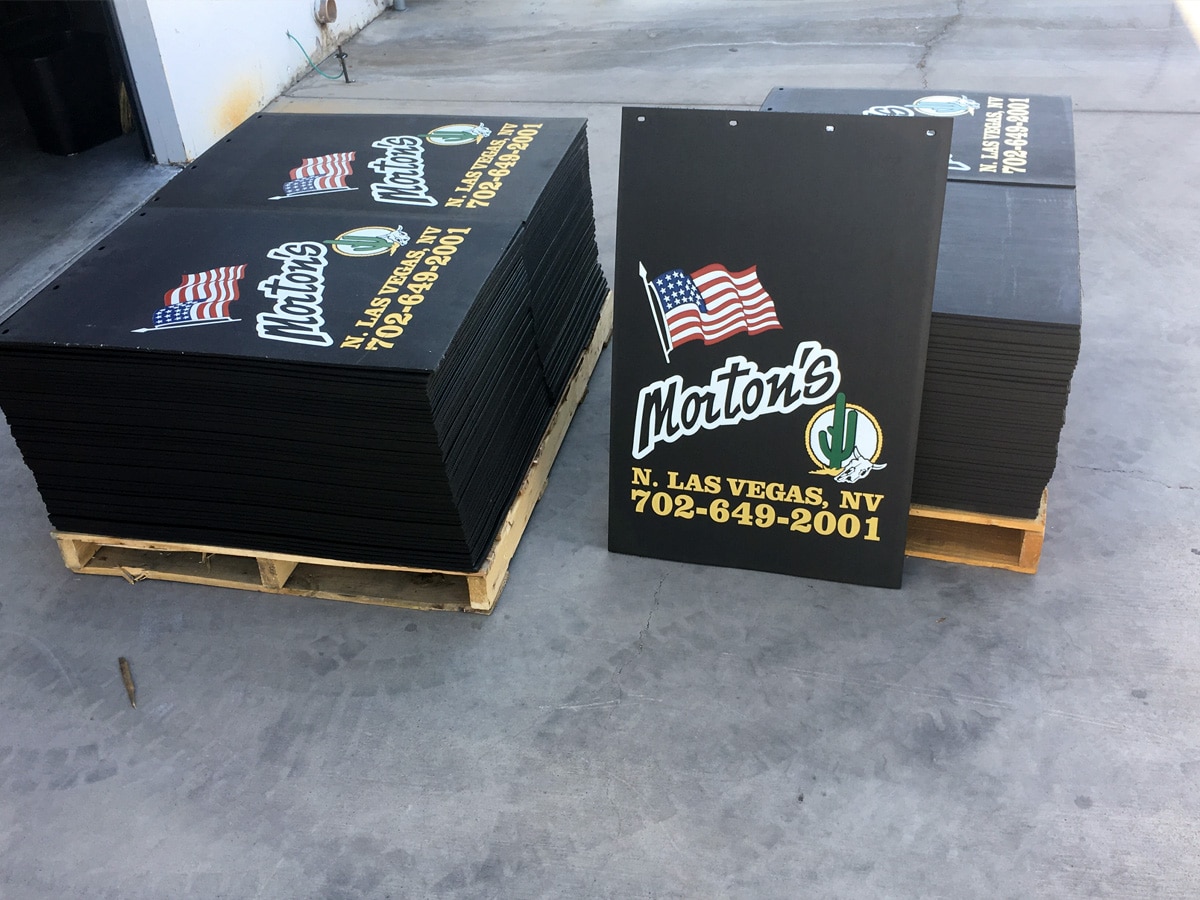 Our Work Examples
We've made thousands of custom Mudflaps for semi trucks since 1993.
Frequently Asked Questions
What's The Benefit of Personalized Mud Flaps?
You're already out and about long-hauling loads, so why not advertise your company's logo with a colorful, custom Mudflap and watch your sales increase? As a business owner, it's important to expose your brand to as many prospective clients as possible to grow your customer base, and personalized Mudflaps from USA Flap will give your semi-truck fleet that necessary exposure 24/7/365. Using an existing sketch, artwork or digital image, our in-house graphic artists can design your logo onto personalized Mud Flaps for a near-permanent, inexpensive advertising solution for your business. We can even customize the size, shape, colors, lettering and mounting holes to your exact specifications. If you need assistance with logo creation or other design ideas, please request a quote by Submitting A Contact Form. NOTE: Unfortunately, we are unable to do gradient images at this time.
If I Don't Have A Logo, Can I Just Use Block Letters?
Our graphic designers are fully capable of creating a custom logo for your business. However, we offer an simple solution to your Mudflap personalization needs with In-House Stock Letters and graphics. Once stamped, the artwork is guaranteed for the life of the Mudflap. No "Die Charge" required.
Is There A Minimum Order Requirement?
Absolutely not. We request that you order at least 1 pair of Mudflaps in one of the following styles — Stock Block Letter, Custom Logo or Blanks. The only exception is our PolyGuard Blanks, which can be special ordered red, blue, purple, yellow and maroon colors, and require a minimum order of 125 pairs.
How Long Does It Take To Receive My Order?
We are very proud of our lead times, which we believe to be the fastest in the Industry. Usually, we can have your entire custom order shipped to you within 2 weeks. NOTE: Your order may arrive in separate packages. Quoted delivery times are based on the estimated time of shipment, and actual shipping dates may vary. Not all products are available at both warehouses. It is at USA Flap's sole discretion from where the final product(s) will be shipped.
Handling Fees: There is a $2.00 per box charge for handling, not to exceed $5 per order.
Shipping Methods: UPS — Ground, 3-Day Select, 2-Day Delivery or Next Day Air. Saturday Delivery and other shipping methods may be available if requested.
Orders for Blank Mudflaps or Stock Stamp designs are shipped within 24-48 hours.
Do You Sell Mudflaps For Commercial Trucks?
Yes. We make universal-fit products (24″ x 24″, 24″ x 30″, 24″ x 36″) for use on "big rig" tractor trailers like Kenworth, Mack, Freightliner, International and Peterbilt, as well as custom sizes for pickup trucks, recreational vehicles (RVs) and tow trucks. Please Contact Our Customer Service Team for pricing. Please measure your vehicle's mounting area before you Call or Email us as it will ensure the most accurate quote.
What Purpose Do Mud Flaps & Weights Serve?
Mud Flaps (a.k.a. Splash Guards, Mud Guards) are rectangular sheets of rubber (RubberGuard) or plastic (PolyGuard) that attach to the rear fender of the semi-truck, behind the tires, to protect the undercarriage — as well as other vehicles — from road debris (including rain and snow) picked up by the rotating tires. For this reason, almost every state mandates the use of heavy-duty Mudflaps on commercial trucks. Stainless Steel Mudflap Weights add style and stability to hold the flaps down for better performance (NOTE: Weights can be personalized as well).
Our Locations
We have 2 warehouses for fast delivery. Local pickup is available 8:30a–4:30p (ET).
Let's Customize A
Commercial Vehicle
Mud Flap Together.
Our Hours:
8:00 AM—5:30 PM
Eastern Time
Email Us