Request Quote ›
Stock In-House Letters
Create an economical solution to your Custom Mud Flap needs by using our in-house Stock Letters. Once stamped, the imprinted text is guaranteed for the life of the Mud Flap. Choose from a variety of font colors, sizes and styles (see below). Made in the United States.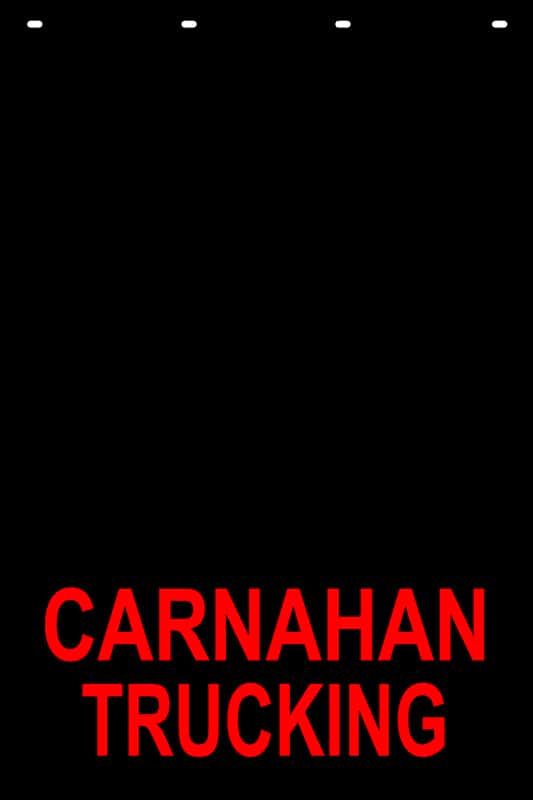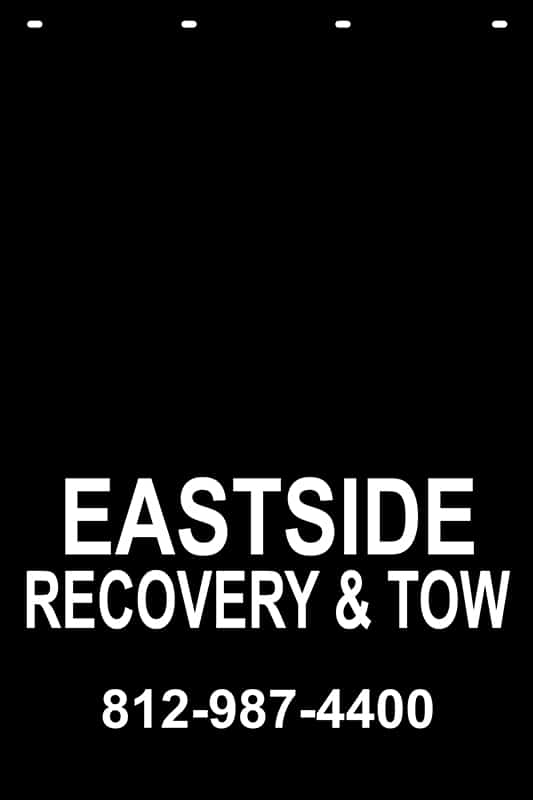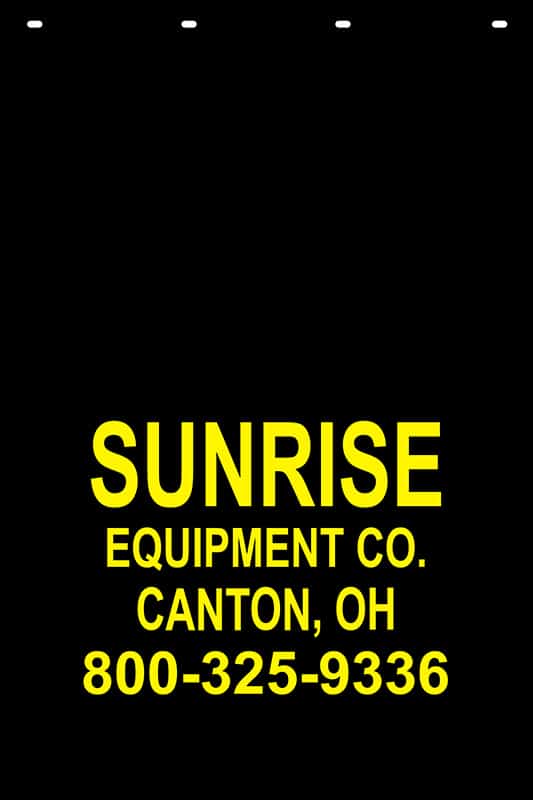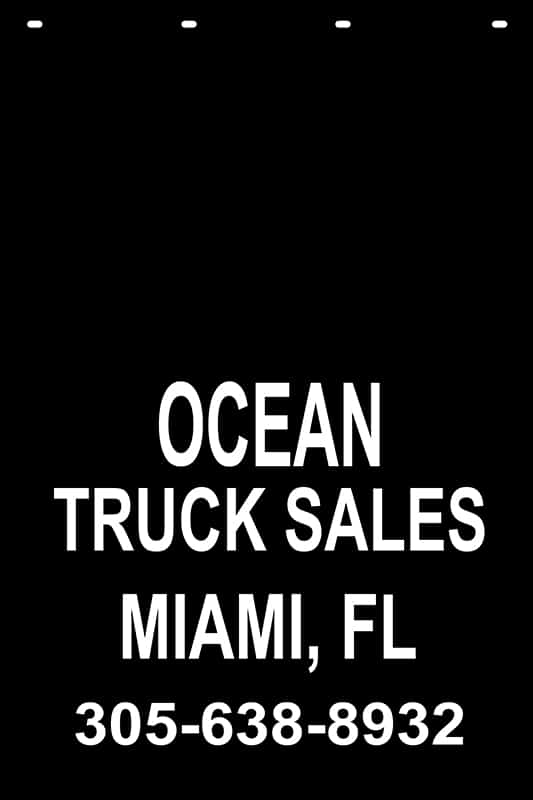 STYLE

-- Letters can be pressed on (Hot Stamped) or bonded permanently to the Mud Flap using our unique, proprietary Reflective process.
-- 2" Arial Letters: Maximum of 16 characters per line
-- 3" Arial Letters: Maximum of 12 characters per line
-- 4" Arial Letters: Maximum of 10 characters per line

COLORS

--

Reflective Colors:

Red, Blue, Gold, Silver, Green, Copper and Neon Green.


Hot Stamp Colors:

Red, Blue, Gray, Gold, Black, White, Silver, Brown, Cream, Yellow, Orange, Dark Blue, Light Blue and Dark Green.

SIZE

-- Make sure the product you select is the correct fitment for your commercial vehicle. Our full-size Mudflaps are stocked in three (3) standard sizes (24x24, 24x30, 24x36) and available in custom sizes to give your commercial vehicle maximum coverage.

FIT

-- All USA Flap products feature standard mounting holes for easy installation. Standard mounting holes are oval in shape, four (4) across, 3/8″ x 3/4″ in size and located 1″ from the top and sides of the flap, with 6-1/8″ spacing between holes. No drilling necessary. Designed not to crack, peel, fade or tear even after years of heavy-duty use.

WEIGHT

-- The thicker and heavier the Mud Flap, the less it will sail while in motion — which can allow road debris to blow past — and cause problems for other vehicles around you. Our 24″ wide stainless steel accent weights add stability and hold the flaps down for better performance (NOTE: Weights can be personalized as well).
* Standard and Deluxe Mud Flaps feature anti-spray grooves that direct water, dirt, mud and other debris that coat the underside of the truck & trailer down and away from the undercarriage.
With production facilities in Indiana and Nevada, USA Flap makes custom Mud Guards for the commercial transportation industry. Your business is very important to us. Please email any questions or concerns to sales@usaflap.com with your information attached or call (888) USA-FLAP for immediate assistance. Hours of operation are 8:00 AM--5:30 PM ET. Our team of support reps will help you to set up an account with USA Flap. A business application and resale certificate may be required for business accounts. All orders must be paid by credit card unless NET 30 Terms have been approved (see Payment Methods). We cannot be held responsible for errors on phone orders. To ensure accuracy, we recommend written purchase orders (POs) or written confirmation whenever possible.
Frequently Asked Questions
Q:

Can I Choose Any Font?
A: Our in-house stock letters are Arial font, A-Z, available in 2" (16 character limit), 3" (12 character limit) and 4" (10 character limit) sizes. Our in-house Arial numbers are 0-9, and available only in 2" sizes. If you would like to use a custom typeset without character limits, consider choosing our Reflective products.
Q:

Is There An Order Minimum?
A: There is no minimum quantity required to purchase. Orders are processed on a first-come-first-served basis, with absolutely no bias toward larger orders. Our #1 concern is customer satisfaction regardless of the size of your order.
Q:

Can The Text Say Whatever I Want?
A: Yes, but USA Flap reserves the right to refuse any request due to the inappropriateness of the text, including – but not limited to – sexually suggestive or profane verbiage. Please read our Terms and Conditions if you believe this frequently asked question applies to you.
Q:

Do You Offer Stock Lowercase Letters?
A: No, our in-house Arial letters are all uppercase. The use of lowercase letters will require the purchase of a die, which is an additional fee.
Q:

What Is A Die Charge and How Much Is It?
A: The 'Die Charge' is billed out anytime magnesium die casting is needed to produce custom logos, graphics or typefaces. The amount of the 'Die Charge' is based on the total number of square inches of the design. USA Flap shares the cost to produce these custom dies, and will retain possession of it should you wish to re-order your custom Mudflaps.
Q:

What Is The Max Number of Text Rows I Can Use?
A: The answer ultimately depends on the size of the Mudflap, and whether or not you mix-and-match 2", 3" and 4" letters. However, assuming equal size letters and 1" spacing between rows, you can expect to fit on a 24" x 30" Poly/Rubber Mud Flap:
-- 2" Arial Letters: Maximum of 8 text rows
-- 3" Arial Letters: Maximum of 6 text rows
-- 4" Arial Letters: Maximum of 4 text rows
Q:

What Does It Cost To Add Stock Graphics To My Stock Letter Mud Flap?
A: Many customers are surprised to learn that USA Flap does not charge graphic design or setup fees if you choose to add in-house graphics, so long as the color is the same as the text font color. If you would like the color of the graphic to be different than the text, the cost is $1.50 per additional color, per pair.
Our Locations
USA Flap has 2 warehouses for fast delivery. Local pickup is available 8:30 AM–4:30 PM, Monday–Friday.
Let's Design A
Custom Mud Flap
Together.
Our Hours:
8:00 AM—5:30 PM
Eastern Time
Email Us ›