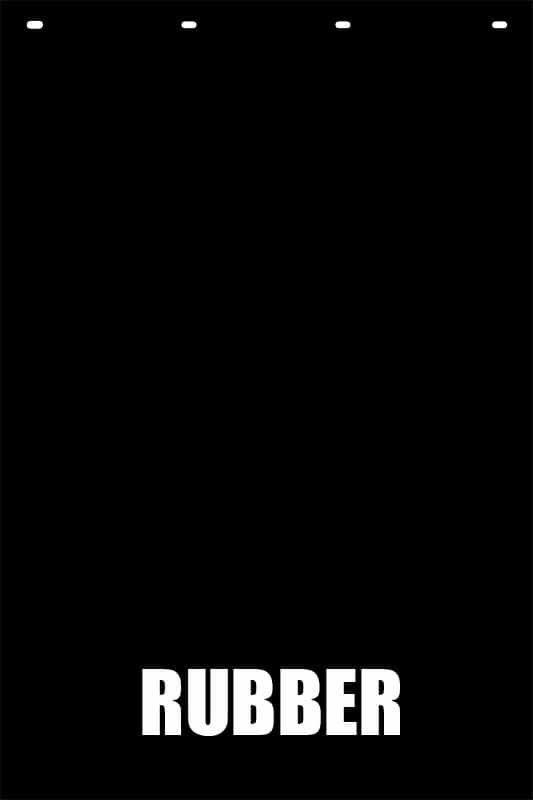 Request Quote
RubberGuard Mud Flap Blanks
Blank RubberGuard Mudflaps are among the most economical products sold by USA Flap, and make convenient replacements for your older, weather-worn ones. Plain RubberGuard Mudflaps are perfect for customers whose goal isn't branding or trademark recognition. With three (3) sizes available, plus the option to have us angle or round out the corners and/or add stock letters and graphics, USA Flap's Blank RubberGuard Mud Flaps are the ideal product for frugal shoppers.
FEATURES

ECONOMICAL

STANDARD

DELUXE

THICKNESS
1/4″
3/8″
1/2″
BACKING
Grooved
Grooved
Grooved
ANTI-SPRAY
–
✓
✓
ANTI-SAIL
–
–
✓
STANDARD SIZES
24 x 24″
$11.42
$14.48
$17.75
24 x 30″
$13.77
$17.39
$21.68
24 x 36″
$16.07
$20.60
$25.60
* Also available in non-standard sizes
** Pricing table above is based on orders of 10+ pairs (under 10 add $5/pair)
Order Blanks Here ›
Add Company Logo ›
Our RubberGuard Mudflaps (a.k.a. Splash Guards and Mud Deflectors) are formulated and blended with a unique compound of elastomers designed to handle extreme temperatures. RubberGuard's properties allow it to stay clean — for longer — and is resistant to road chemicals, grease, oils, fuels and salts.
Available in

BLACK ONLY

Rounded Corners and Angled Cuts available
Standard Sizes: 24×24, 24×30, 24×36 (non-standard sizes are special order)
Smaller sizes available for pickups and dually trucks
Standard and Deluxe RubberGuard products feature anti-spray grooves that direct water, dirt, mud and other debris that coat the underside of the truck / trailer down and away from the undercarriage.
All of our products feature standard mounting holes for easy installation. Standard mounting holes are oval in shape, four (4) across, 3/8″ x 3/4″ in size and located 1″ from the top and sides of the flap, with 6-1/8″ spacing between holes. No drilling necessary. Designed not to crack, peel, fade or tear even after years of heavy-duty use.
MATERIAL

— Our Blank RubberGuard Mud Flaps are made from recycled rubber and designed to hang freely behind the rear tires.

FIT

— Make sure the product you select is the correct fit for your commercial vehicle. Our full-size RubberGuard flaps are stocked in three (3) standard sizes (24×24, 24×30, 24×36) and available in custom sizes to give your commercial vehicle maximum coverage.

STYLE

— Custom Mud Flaps are a great way to add a personal touch to your commercial truck or trailer. Choose from our inventory of stock graphics and/or block letters in Arial font, or supply your own logo and graphics for a permanent advertising solution (NOTE: Die Charge, artwork fees and setup fees apply)
— 2″ Arial Letters: Maximum of 16 characters per line
— 3″ Arial Letters: Maximum of 12 characters per line
— 4″ Arial Letters: Maximum of 10 characters per line

WEIGHT

— The thicker and heavier the Mud Flap, the less it will sail while in motion — which can allow road debris to blow past — and cause problems for other vehicles around you. Our 24″ wide stainless steel accent weights add stability and hold the flaps down for better performance (NOTE: Weights can be personalized as well)
With production facilities in Indiana and Nevada, USA Flap makes custom Mudflaps for the commercial transportation industry. Your business is very important to us. Please email any questions or concerns to sales@usaflap.com with your information attached or call (888) USA-FLAP for immediate assistance. Hours of operation are 8:00 AM–5:30 PM ET. Our team of support reps will help you to set up an account with USA Flap. A business application and resale certificate may be required for business accounts. All orders must be paid by credit card unless NET 30 Terms have been approved (see Payment Methods). We cannot be held responsible for errors on phone orders. To ensure accuracy, we recommend written purchase orders (POs) or written confirmation whenever possible.
Our Locations
USA Flap has 2 warehouses for fast delivery. Local pickup is available 8:30a–4:30p ET (M–F).
Let's Design A
Custom Mud Flap
Together.
Our Hours:
8:00 AM—5:30 PM
Eastern Time
Email Us ›